Wednesday, March 21, 2012
Shop Jean & Rosz at multiply here.
Posted by

Jean and Rosz
at 10:29 AM
No comments:
Links to this post


Sunday, March 11, 2012
Last year we've officially launched the Jean & Rosz shoe line. This year we'll be expanding our line even more with Jean & Rosz Bags which will be available here and at The Ramp Trinoma in the next few days.
Here's a sneak preview:
Hope you'll love them as much as you've loved our accessories and shoes ;)
Posted by

Jean and Rosz
at 1:25 PM
No comments:
Links to this post


Friday, March 2, 2012
It's already March and i'm just writing about my valentine's date! :D I've been busy the past couple of weeks preparing for Jean & Rosz's summer shoe collection! Hopefully you'll all love it, and i can't wait to share them (hint: think neons and color blocking). Anyways, back to my valentine's, K and I spent it at Hong Kong, we don't usually celebrate valentine's and make a big fuss about it, honestly i don't get the hype that comes with it (sorry!) BUT when you spend it someplace else, now that's a different story! haha ;) K surprised me with a trip to Hong Kong and a reservation at L'Atelier de Joel Robuchon, i was really surprised coz like i've said we don't make a big fuss over valentine's day, but a nice surprise i might add! I've heard great reviews with the restaurant so i was very excited! Upon entering, you'll be greeted by a friendly host and escorted to your seat. We chose the bar area because you'll be able to see the chef's in action there. It's like watching Top Chef but i get to eat the food! Everything we ordered came out so beautifully plated, but there were some hits and misses with the food.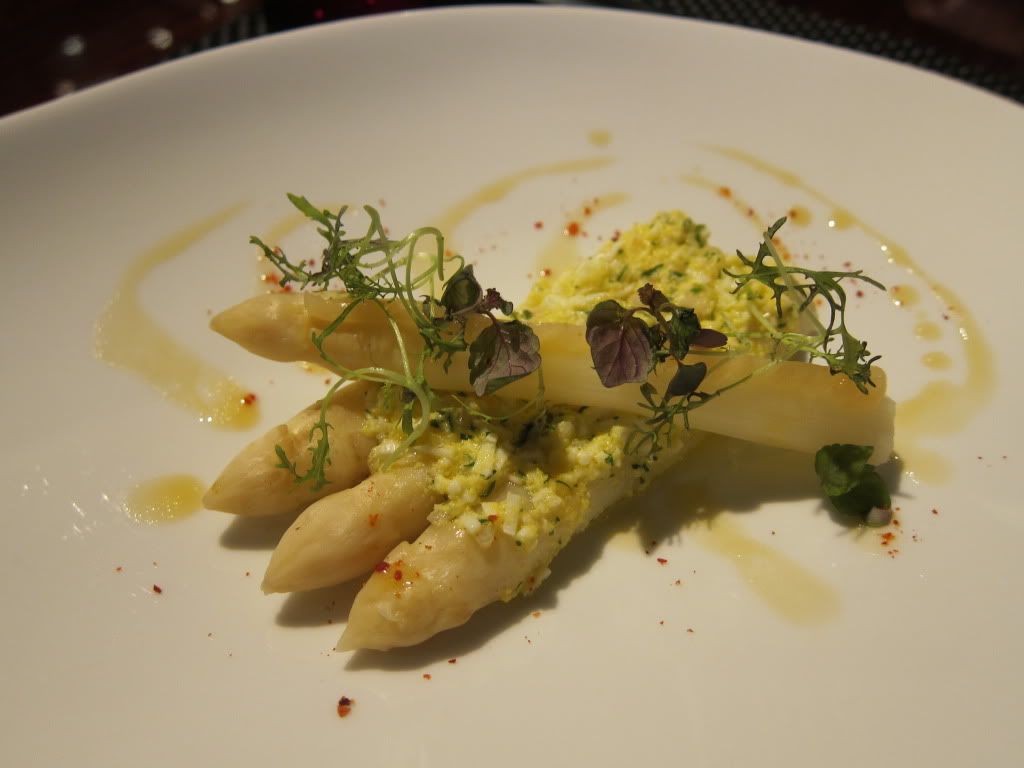 LES ASPERGES BLANCHES

French White Asparagus w/ Citrus Confit
just ok nothing too exciting about this dish
L'OEUF DE POULE

Pan fried chicken egg with Sweet Corn Cake and Parmesan Cheese
loved this dish! plus the addition of shaved black truffles made it extra special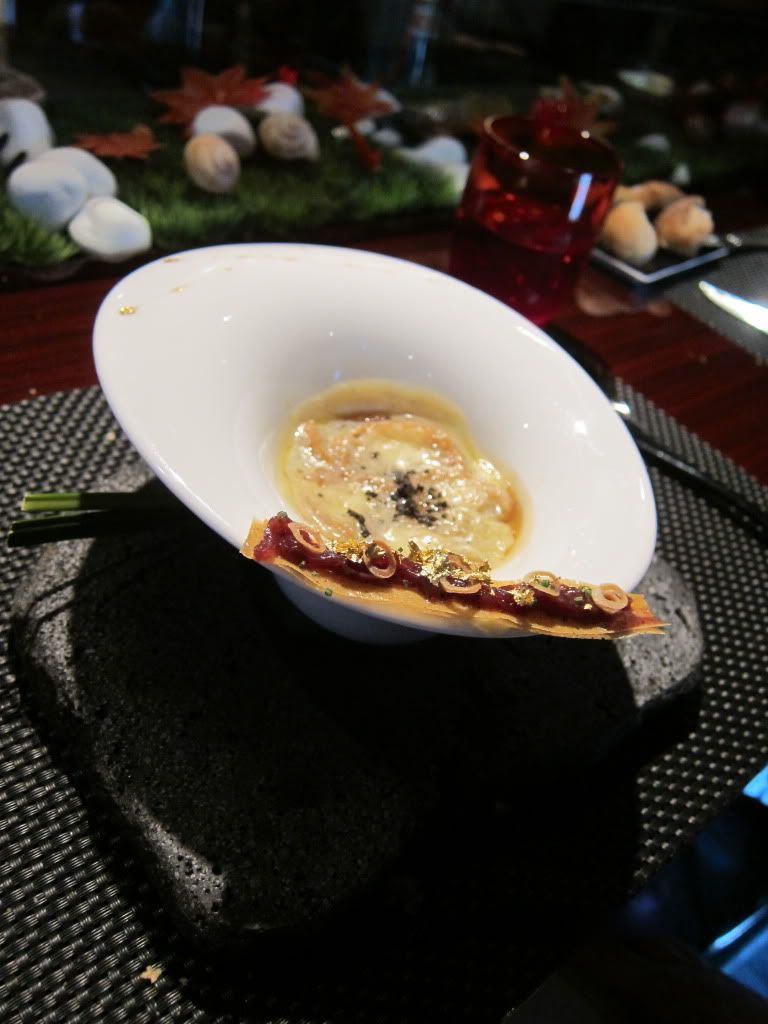 L'OIGNON DE ROSCOFF

Traditional French Onion Soup w/ Beaufort Cheese Gratin
great presentation but a little salty for us
LE FOIE GRAS

Warm Duck Foie Gras w/ Caramelized wings and Risotto
the best foie gras we've ever tried! it was cooked to perfection!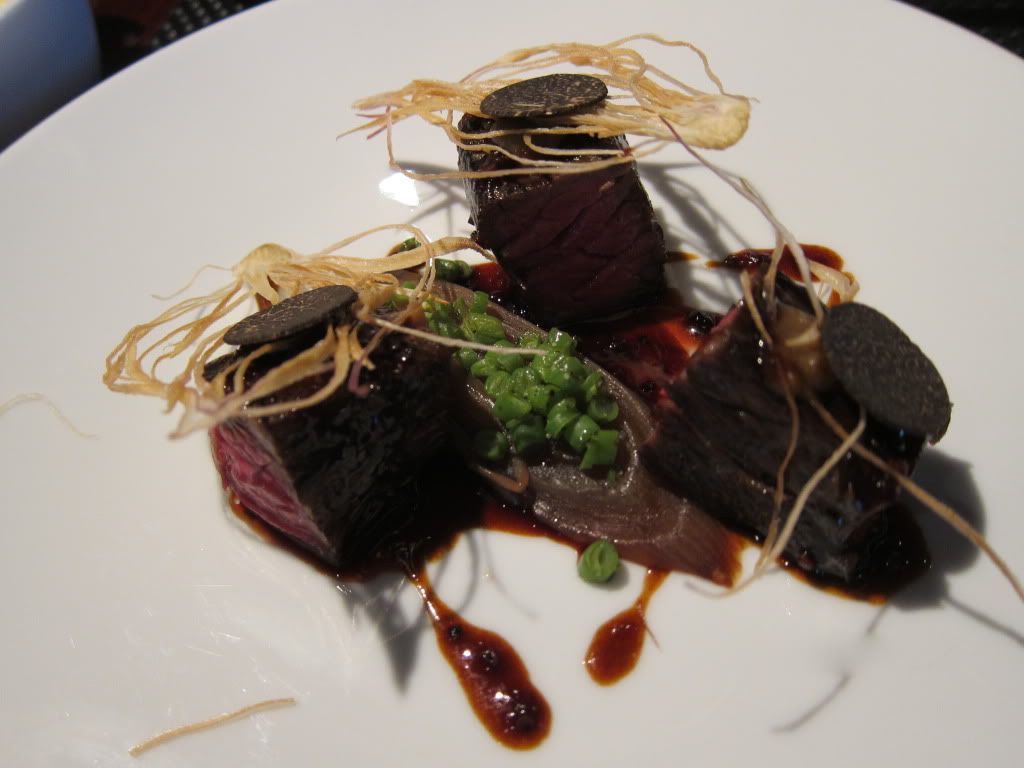 L'ONGLET DE BOEUF WAGYU

Pan Fried Wagyu Beef Flap w/ Shallots and Crunchy green beans, Black Pepper Sauce
it was cooked to a perfect medium but we've had better steak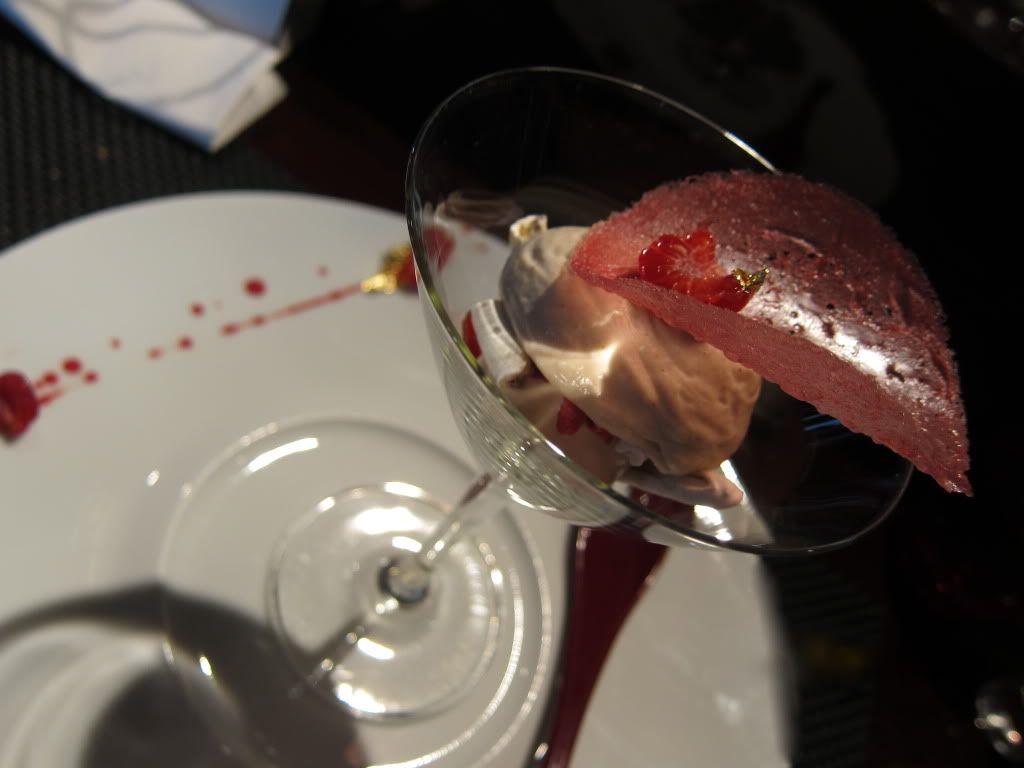 LE MARRON

Chestnut mousse w/ Raspberry Meringue and Chestnut Ice Cream
again great presentation but just ok tastewise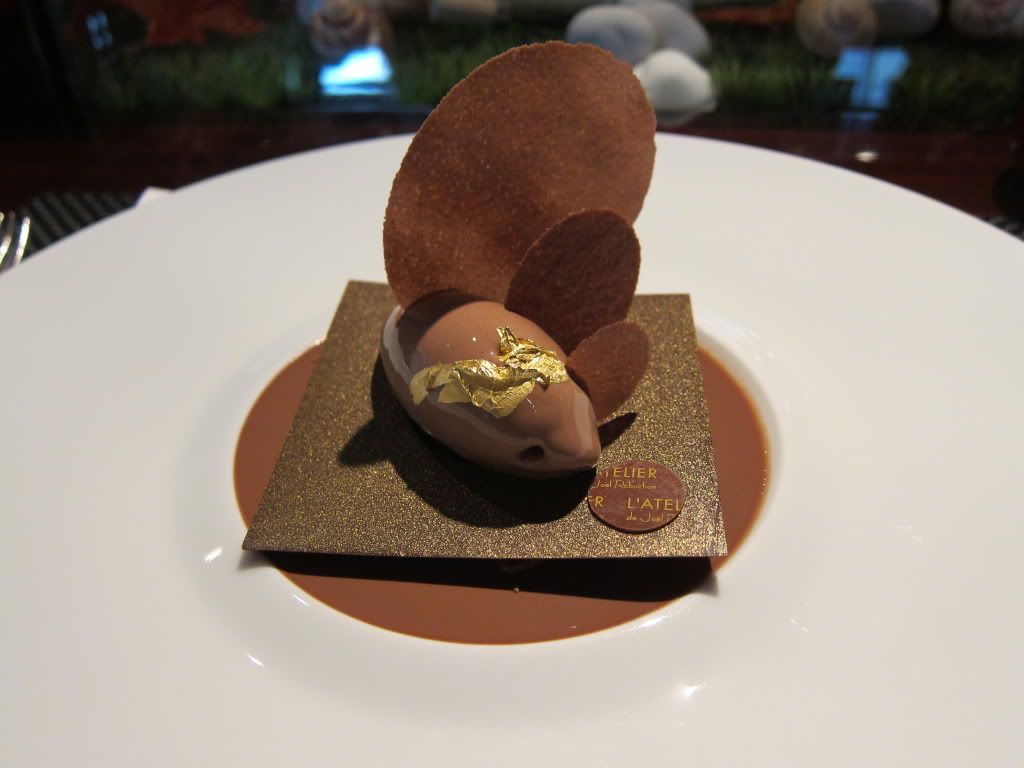 LE CHOCOLAT

Chocolate Biscuit, Chocolate Cream and Chocolate Ice Cream
this was sooo good! a perfect ending to our meal
Posted by

Jean and Rosz
at 10:32 AM
2 comments:
Links to this post