A slew of wedding extravaganzas are about to come my way in the next few months. Since ZING peach, pink, salmon and honeysuckle colors are in, I've decided to come to the weddings in Zing. I already have a dress and is now ready to decide on the accessories to complete my ensemble. I have realized that I don't have a lot purses to go with cocktail and formal dresses, so I was inspired to combine my clutch moodboard with these ZING
Jean & Rosz
accessories.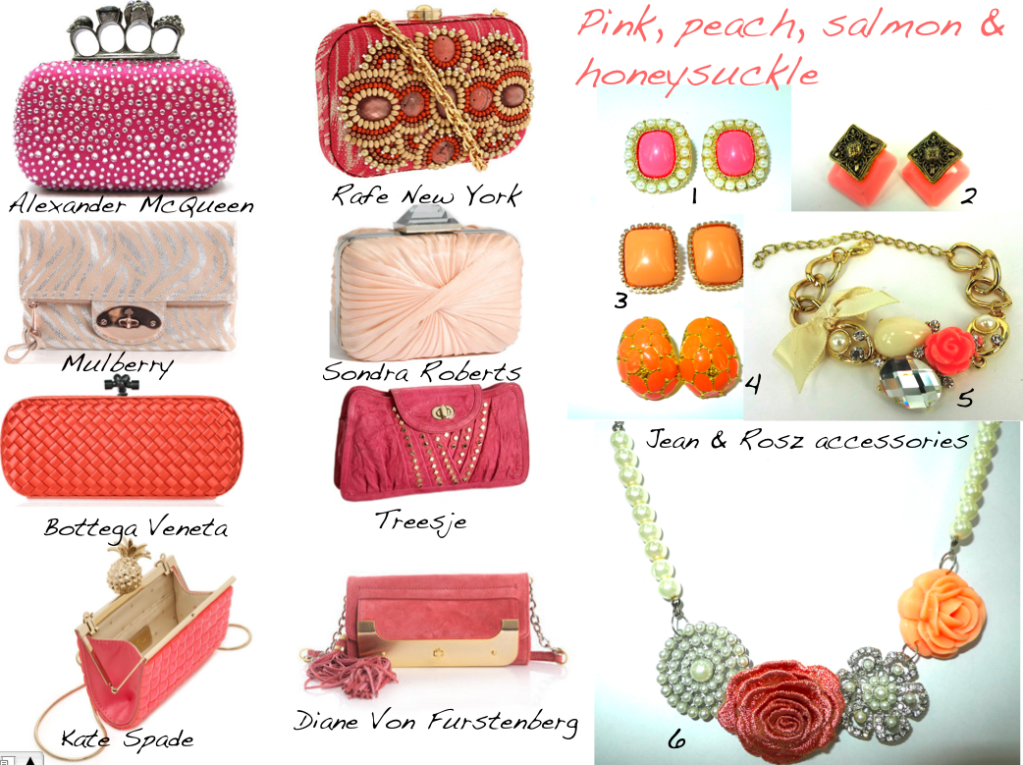 The Sondra Roberts clutch is barely USD100. But I still want the Alexander McQueen skull clutch. I still have enough time to dream before my friend's wedding.
Nevertheless, the
Jean & Rosz
accessories featured are as follows:
1. Pink Mudra Earrings Php 280
2. Vintage Peach Enamel Resin Php250
3. Dusty Pink Square Earrings Php250
4. Pox Coral Earrings Php 220
5. Seoul KPOP Bracelet Php300
6. Pearl coral floral necklace Php400
Get these fab pieces from
Jean & Rosz
. Like us on
facebook
too.
I couldn't get enough. Has it been 2 years since my wedding? I couldn't help but feel excited every time i hear the word WEDDING, hmmm.. before I end my post for today, let me inspire you with these
peach, pink, salmon and honeysuckle wedding themes.
PEACH
Peach and Vintage Chrome
PINK
Pink Glam and Silver
SALMON
Salmon and Rustic Burgundy
HONEYSUCKLE
Honeysuckle and Sunset Hues
How do you want yours?
-ROSZ
*wedding photos from google