Mikka Padua is a full-time mum to adorable Mischka. Amidst the chaotic duties of mommyhood, she has defined what mummying in style is all about. Ever since back in college, Mikka somehow never failed to make those boring t-shirts look fashionably chic. I can still remember our chats about our Secret Mall of fab finds
(I promise to bring the Secret Mall to my grave)
. What I love about Mikka is her ability to choose investment-worthy pieces. She knows exactly what to splurge and save on. Being naturally creative and innovative are also innate to her, which makes everyday fashion fun without having to break a bank.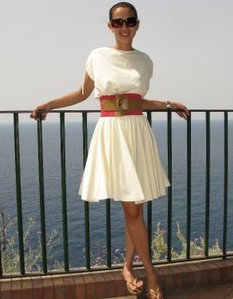 So when I was thinking of who to feature for Real People Baubles, I immediately thought of her. I've always noticed her one-of-a kind accessory pieces. She makes it seem like accessorizing is so easy.
Here's sharing with you 10 snaps of her most coveted accessories. As you read along, pick up some tips from this wonder-mum and have a peek on how mummying in style can be done via accessorizing.
Mikka's accessory diary:
Thank You Mikka for letting us in your accessory closet. Thanks for the tips on where to find these striking ones and how we can strut these ethnic pieces into Conde Nast Traveller worthy investments.
We hope to see more soon!
P.S.
As early as 1.5 years old, Mischka has been deemed as one of Smart Parenting Magazine's Best Dressed Kids. How cute right? With a mum like Mikka, are we even surprised?
Join Mikka and Mischka's adventures! Visit
HERE
-ROSZ