They say that this year's Oscar's Fashion was disappointing. But despite raves from
Cate Blanchett's stunning gown
, i couldn't help but give praise to Jennifer Hudson.
After losing 80 pounds, Jennifer walked the red carpet in this tangerine Versace dress. What a smart choice of color! This color is a definite hottie theis season. It also gives perfect contrast to her skin tone. The cake topper was the boobs!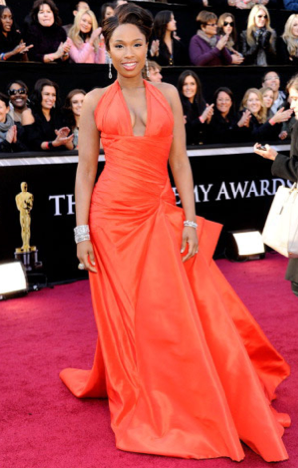 Of course I couldn't help but notice the accessories.
the metallic embellished accessories have their own character. I am sure they cost a fortune too. I am personally diggin the top most bracelet with a semi brooch clasp.
Jennifer's total ensemble was absolutely perfect. Not to mention, the purple shoes beneath the dress. unfortunately, I couldn't find a pic to share with you.
-Rosz