While everyone is in to marathons, I was advised by the doctor to take it easy on running
(long story, so as not to bore you, let's just move on)
And so I was browsing through the internet for new and interesting sports for me to try on and my choices finally narrowed down to two. 1. Fencing
(totally out, cause it still requires a lot of physical engagements)
2. Firing
(Uh-huh, shooting with a gun --as a sport)
. I thought maybe I should talk to my friend
Jojo
(this is her birth cert name but she's a girl)
because she's into this sport and asked her to enlighten me further about it and here's what she has to say:
"Knowledge of firearms is one's last line of defense. A woman's fear disables and prevents her from using the firearm as the tool to this defense. Learning how to shoot, or simply experiencing shooting enables a woman to make sound choices to protecting herself and/or her family. Be it learning mixed martial arts, buying a car alarm, buying a pepper spray..now add learning how to shoot enables a woman to make the best choice for her self defense."
"No doubt men dominate the shooting sport. But for natural and practical reasons, here are why women make better shooters:"
1. high capacity of emotion to decide before shooting. Women shoot out of
necessity
not out of
anger
.
( I totally agree! we waste so much time to beautify ourselves only to waste a life?)
2. capacity to listen, focus, receive instructions, do as told.
(of course, good girlfriends and good wives follow, understand and know when to listen!)
3. readied responsibility after the gun is shot.
"Its also noticeable that a woman's capacity to slower the heart rate makes her a more consistent shot. Clustering is averagely better.
(Clustering is shooting within a certain circumference, throughout the whole round
). When a woman learns how to shoot she teaches herself a practical skill as ordinary but as important as changing one's tires. Experience it even just once and the knowledge stays with you for a lifetime."
No wonder female action stars like

Angelina Jolie

, Halle Berry, Uma Thurman, Cameron Diaz and Athena Lee look so much

hotter

when they shoot!
Ok, now I am sold. But I need to find the perfect shooting accessory to make me feel like these female action stars. A Feminine yet Androgynous "CARRY".
"carry" is a term of the firearm one has with them at all times. "whats your carry?" refers to the firearm one 'uses most' and is most adept and familiar with. Of course, 'uses most' meaning range use. Polymer handguns emerged when shooters needed a more lightweight more hassle-free carry firearms.
I am diggin the Uma Thurman-ish Smith and Wesson! But before deciding on whether to get the
weapon
este, "carry", I might as well learn to shoot first. And I've found just the perfect place in MANILA!!!!! Coincidentally, Jojo is the VP for Marketing of STRONGHAND.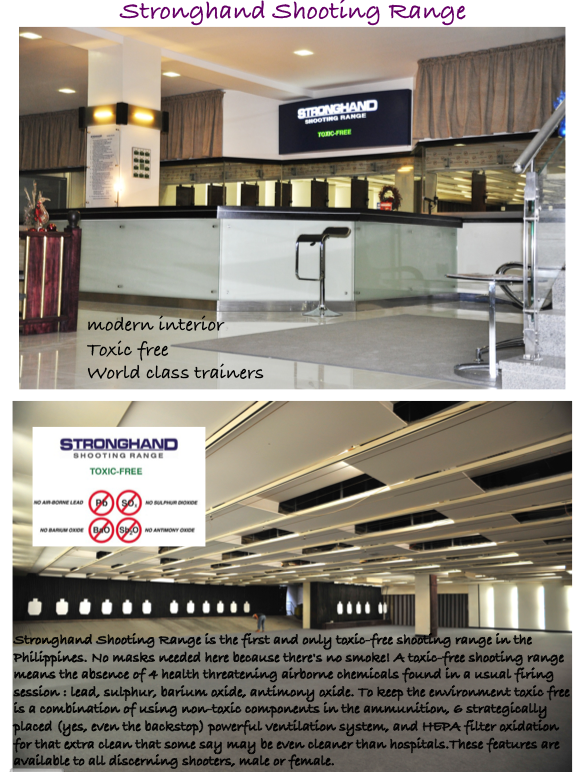 Stornghand's thrust in extra care in learning makes the range female-friendly. The house Range Officer takes more time in education of safety and handling and not just oversee the range as a venue to shoot. Wednesdays lady shooters are 20% from range use and rentals. House firearms are comfortable to grip. Shoot comfortably in a,what some call, spa-like environment. Stronghand Shooting Range introduces VITAPRO - Vital Protection Defense Training Series. One class targets FEMME FEAR: overcoming women's fear of fireams. This 2 hour session ends with a 1 hour live firing session with the head trainor. March 30 is its first class. Ladies may call (02) 721-7174 and look for the Club Officer to reserve a slot.
Isn't this new sport exciting?
Jojo ended our conversation with a hilarious note:
"Why Shooting? Because it's time. It's time to arm yourself with beauty grace and knowledge of shooting. Because lipstick attracts good men and a ladysmith keeps the bad out. hahahaha"
Check out the features of Stronghand Firing Range together with its virtual tour here:
To know more about Stronghand Inc., visit
HERE
*all weapons mentioned above can be purchased via Stronghand. They also help in license processing.
STONGHAND SHOOTING RANGE is located in the following cities:
MANILA


La Défense




1660 E. Rodriguez Sr. Avenue


Quezon City, Philippines 1111
T +632 721 7171 to 72
T/F + 632 721 7173


PANGASINAN
McArthur Highway, Brgy. Nancayasan
Urdaneta City, Pangasinan 2428
T +6375 568 4424

CEBU
Sail Centre Bldg., Briones St.,
North Reclamation Area
Cebu City, Cebu 6000
T +6332 234 4174

DAVAO
Sta Ana Avenue (cor. Sobrecary St.)
Davao City, Davao Del Sur 8000
T +6382 227 0202
P.S. Jojo was our guest blogger. She talked about our Misibis Adventure. Read
HERE
Happy Friday!
-ROSZ